Robert Thomas was born on June 1st, 1937, in Hoylake, United Kingdom. He died on February 2nd, 2015, in Gorzow, Poland, as a consequence of a stroke that he suffered in early January.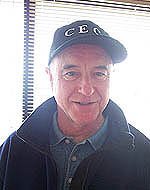 The Center for Scientific Studies expresses to his family its condolences on the death of Robert Thomas, a prominent scientist and visiting professor at CECs since 2003.
Bob earned his Physics degree at the University of Liverpool in 1959, and his PhD at the University of Cambridge in 1973. He worked as a glaciologist and meteorologist at the British Antarctic Survey in the periods of 1959 to 1963 and 1965 to 1973. In the Seventies he was Associated Researcher at the University of Nebraska and Associated Visiting Professor at the University of Maine in Orono.
Bob was always interested in Scientific Research in Antarctica and Greenland. His Antarctic work focused on the floating ice shelves, developing models on the interaction between platforms and glaciers flowing into them.