Biologists at CECs publish a comprehensive study that demonstrates the major role of a correct interpretation of the modifications induced by the environment on our DNA to command a proper balance of body weight and prevent obesity.
To improve our understanding of the relationship between our DNA and how much we eat, we need to know which cells are important in the regulation of energy homeostasis. Our brain possesses neurons that are in charge of regulating the amount of food we eat and it is interesting to note that even artificial activation of these neurons pushes us to eat more than we need to.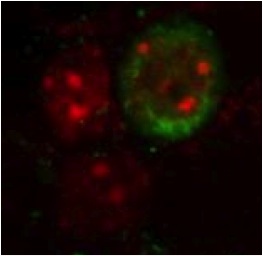 Figure: Immunofluorescence in hypothalamus neurons. Expression of MeCP2 is seen in red and a POMC neuron is marked in green. We can see how a neuron that is positive for POMC expresses the MeCP2 protein. To its left, two neurons that do not express POMC are seen. These probably correspond to neurons that express AgRP.
Read more...