CECS wins the 2010 Icare Award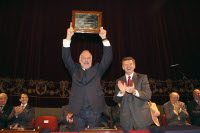 Centro de Estudios Científicos (CECS) won the Award, in its special category. Patricio Parodi, President of Icare presented his institution's annual Award.
CECS received this acknowledgement for its contribution to the promotion of science in Chile; because it is the first independent scientific research organization in the history of Chile, and for becoming a nerve centre for science in Chile and Latin America.
Read more...
Start
Prev
201
202
203
Next
End
Page 203 of 203