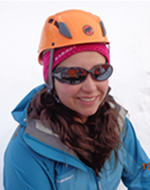 Geógrafa, titulada con distinción máxima de la Universidad de Chile, con experiencia en el sector público y privado, participando en equipos profesionales interdisciplinarios e innovadores. Experiencia en el desarrollo de políticas públicas y proyectos FONDECYT y CONICYT realizados junto a destacados investigadores de la Universidad de Chile y el Centro de Estudios Científicos de Valdivia, trabajando principalmente en caracterizaciones físicas del territorio y estudios de riesgo, entre otros.
Como estudiante de pregrado, realizó su práctica profesional en la Dirección General de Aguas (Ministerio de Obras Públicas - Gobierno de Chile), y su tesis la realizó en el Centro de Estudios Científicos (CECs) dentro del Proyecto FONDECYT N° 1080320: "Late-Holocene glacier fluctuations in the Andes of southern Chile: multi-criteria dating approach integrating high-resolution dendroglaciologic methods with lichenometry, tephrochronology and stratigraphic analysis", analizando las características glaciológicas, climáticas y lacustres que permitan el vaciamiento del lago Greve en Campo de Hielo Sur.
Desde mediados del año 2009, se encuentra ligada al Centro de Estudios Científicos (CECs), prestando apoyo, asesoría y participando activamente en proyectos de investigación sobre interacciones glacio-volcánicas en el sur de Chile y planes de monitoreo de glaciares a lo largo de Chile. Su línea de interés son las fluctuaciones y dinámica de glaciares en Chile y su impacto en el recurso hídrico, por lo que actualmente realiza labores en temas relacionados con sensores remotos, sistemas de información geográfica y participa en expediciones y campañas de terreno en la zona norte, los Andes Centrales, la zona volcánica del sur y Campos de Hielo.
SELECTED PUBLICATIONS
"Glacier responses to recent volcanic activity in Southern Chile". Environmental Research Letters, Volume 7, Issue 1, pp. 014036. *
A. Rivera, F. Bown, D. Carrión & P. Zenteno. (2012)
* Publicación ISI