There are no translations available.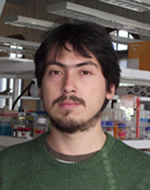 Ignacio Alejandro Fernández Moncada nació en Valparaíso el año 1987. Vive toda su vida en la comuna de Concón, hasta que ingresa a estudiar Bioquímica el año 2005 en la Pontificia Universidad Católica de Valparaíso. Luego de cursar su etapa de estudios en la universidad, decide realizar su tesis de pregrado fuera de su casa de estudios. Ignacio arriba a Valdivia en septiembre de 2010 y bajo la tutela del Dr. Felipe Barros, realiza la tesis titulada "La bomba Na+/K+ ATPasa es energizada por un único compartimiento de ATP celular", la cual finaliza en marzo de 2012. En ese mismo mes ingresa al programa de Doctorado en Ciencias mención Biología Celular y Molecular impartido por la Universidad Austral de Chile. Actualmente se encuentra finalizando el primer año del programa.
PUBLICACIONES SELECCIONADAS
Acute Feedback Control of Astrocytic Glycolysis by Lactate.
T. Sotelo-Hitschfeld, I. Fernández-Moncada And L. F. Barros. GLIA 60:674–680 (2012).