A NEW DIRECTION TOWARDS UNDERSTANDING RETT SYNDROME.
Researchers from the CECs Biology Lab have published the results of a study in the Molecular and Cellular Pediatrics Journal, which points to unraveling changes in the intestinal epithelium present in Rett Syndrome, a severe disorder of the central nervous system.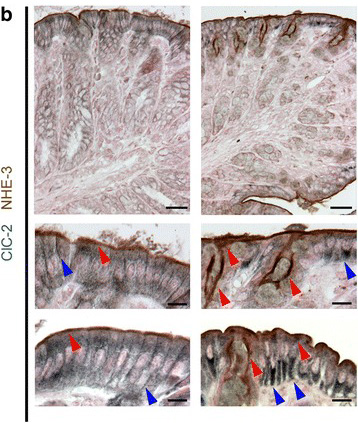 To conduct the research, they decided to study phenotypical intestinal levels in mice with Mecp2-null gene and diarrhea present. The results show that silencing the Mecp2 gene significantly affects the colon. The changes in length and epithelial histology are similar to those seen in colitis, and the changes in protein localization that participate in the absorption of fluids could explain the diarrhea, but exclusive deletion of Mecp2 from the intestine did not reproduce colon changes observed in the MECP2-null mice, which suggests the participation of other cells in these phenotypes, indicating a more complex mechanism that just silencing the gene.
Carlos Flores, CECs lead Biology researcher, states "this work was possible thanks to the fact that the lab provides the necessary space for interaction between the different research teams, in this case a Neuroscience team and an Epithelial Physiology team. Based on some hallway conversations, Pamela, one of my students who's now in the Doctoral program at Heidelberg University, was put in charge of studying the intestinal phenotype on an animal model for Rett syndrome, a distinct neurological disorder".
Flores further adds that the description of this intestinal phenotype can convey some ideas for the administration of Rett affected patients, despite the fact that finding a definite cure has not advanced significantly, palliative treatment for symptoms has helped to considerably extend the life span of these patients, which will evidence disorders that manifest in other organs overtime. "In the case of Rett intestinal conditions, these were described before, but there wasn't awareness of the origins or that it was also present in animal models, therefore this opportunity presents a strategy to use in the study of Rett's intestinal disorder" he added.
Bredford Kerr, Researcher at the Biology Lab and investigation team member, states "the results we obtained via this collaborative study, undoubtedly allow us to move forward to understanding physio-pathologies associated to Rett syndrome. This pathology was initially studied as an illness residing exclusively in neural dysfunction. More than a decade ago we became aware of the relevant participation of cerebral cells (non neuronal cells) in the development of this disease and more recently, evidence was found that allows us to hypothesize that this neurological disorder could be the consequence of a multi-systemic dysfunction, converging in the known neurological phenotype. Our following steps will focus on advancing in this direction, therefore, we hope to continue working closely".
Ref.: Severe changes in colon epithelium in the Mecp2-null mouse model of Rett syndrome. Molecular and Cellular Pediatrics 20163:37 DOI: 10.1186/s40348-016-0065-3
A NEW DIRECTION TOWARDS UNDERSTANDING RETT SYNDROME