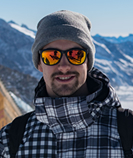 Johannes Reinthaler was born in Brixen (IT) in 1990. He did his Bachelor in Geography at the University of Innsbruck (AT) with an exchange year at the University of Iceland and completed his Master with the focus on Physical Geography in 2017 at the University of Zurich (CH).

During his studies he focused on Glaciology and Hydrology and the application of remote sensing technology for glacier observation. In his Master Thesis, he analysed glacier changes on active volcanoes in Latin America using satellite scenes and the influence of volcanic activity.
Johannes joined the research team at CECs in 2018 with the aim of analysing glacier changes in Chile, investigate the interaction between glaciers and volcanoes and specializing in remote sensing technologies.