There are no translations available.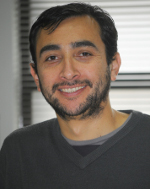 Ph.D. (Ecología y Evolución, UACH). Estudiante de Postdoctorado.




PUBLICACIONES SELECCIONADAS
Scheihing, R., Cardenas, L.,Nespolo, R. Krall, P., Walz, K., Kohshima, S., Labarca, P. 2010 Morphological and molecular analysis of centropagids from the high Andean plateau (Copepoda: Calanoidea). Hydrobiologia 637, 45-52.
Scheihing, R., Labarca, P., Cardenas, Nespolo, R. 2011 Viability selection on body size in a non-marine ostracod. (Hydrobiologia).